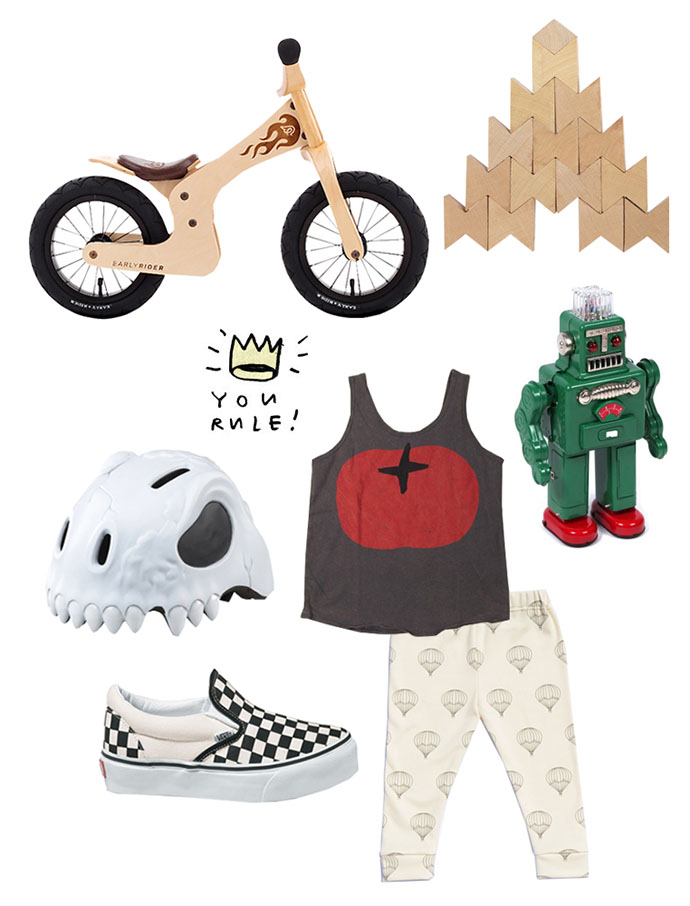 We have a birthday approaching next month and Oliver will be turning 5. I know FIVE! I can't believe how quick those years have went past, I know it's a such a cliche, but I feel like it was only yesterday that he was our tiny baby and now he is growing so quick and even starting school this August…Time please slow down!
We have started getting a few bits and pieces in for his birthday to add to Oliver's list which he has given us (which include a Hulk mask, Spider Man web shooter and Batman's car). Below are something things I would like to include in his ever expanding list.
1. Early Rider balance bike. We had one but sadly it has broken, so we would like to replace it with something a little better quality with the thoughts of passing it down to Sebastian.
2. Twins Wooden Toy by All The Way To Paris. Oliver loves building and creating and I feel these would be perfect as the possibilities are endless.
3. Smoking Space Robot. I bought Oliver's first metal Robot when I was visiting Paris a couple of years ago and ever since then we have been building his collection. Although they are not advised to be played with until 8 years, I like them for displaying in his room and he can appreciate them when he is a little older.
4. Bobo Choses Tomato vest. Will be great for our trip to CPH in August and for the hot summer weather.
5. 'You Rule' Tattly Temporary Tattoo. Kids Love temporary tattoos and my boys are no exception. I have bought the birthday set from Tattly so that on his birthday he can cover his arms in them and I have bought a little set for Sebastian so he can join in.
6. Crazy Stuff Helmet Skull. We need a helmet and the Crazy Stuff helmets are the coolest thing I have seen for kids. I know Oliver will love this one!
7. Vans Black and White Checkerboard. Classic vans will be great teamed with partially anything.
8. Hot Air Ballon Leggings Aren't these adorable with the little hot air ballon? I love boys in leggings as they are so comfy when they are running around and these organic leggings will be great for Oliver teamed with a vest or t-shirt.