Christmas is looming and getting closer and I have to say that I am not organised this year with gifts. I am sure if I look at my gift guide I can pick something for each of my family and friends. What I have decided on is how I want my table to look! Whether it's feeding the whole family or just myself, husband and two boys I still want the table to look good and festive like I've made that extra effort on this special day.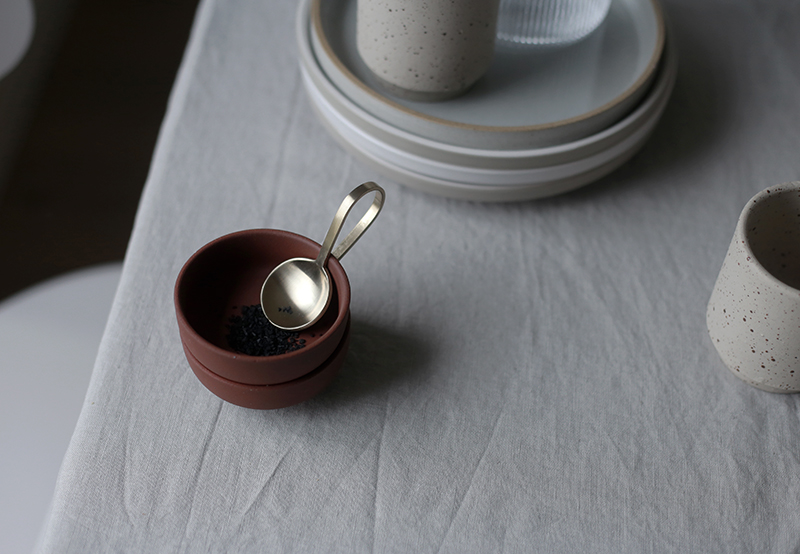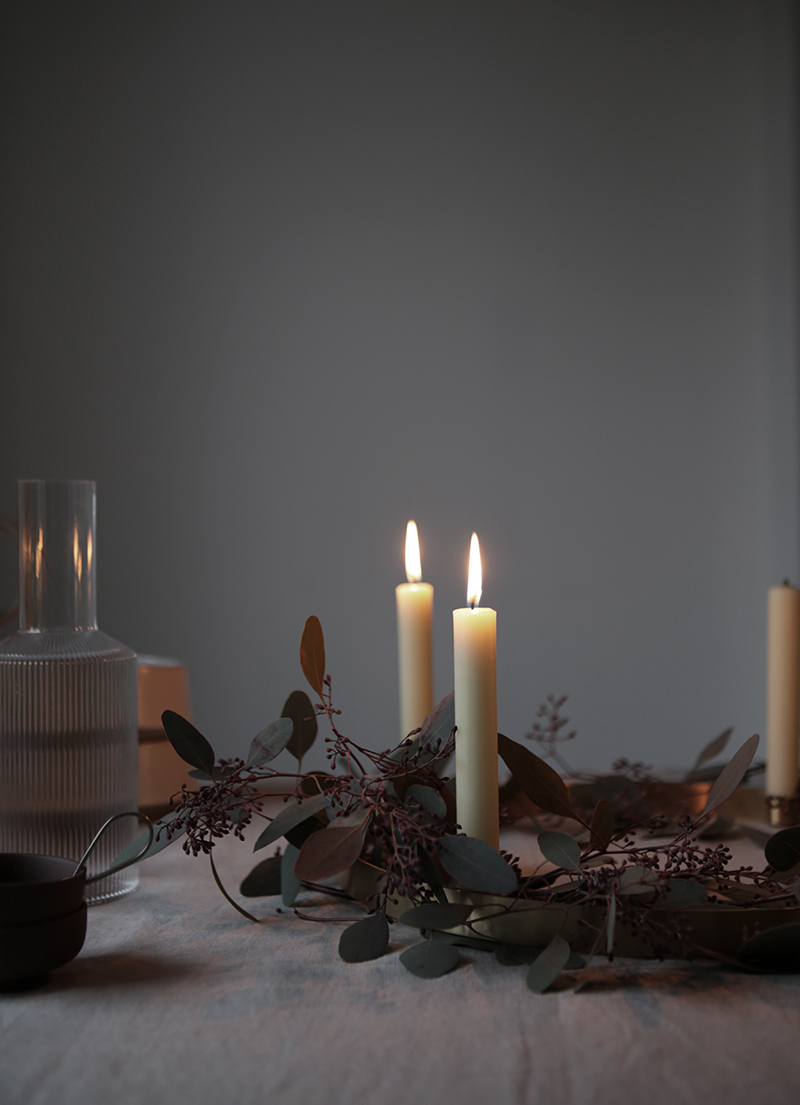 As always my grey linen tablecloth comes out, just like white, it acts as a good backdrop for your plates and glasses to sit on top of. I usually like a centerpiece, this can be formed with a couple of different sized vases filled with winter foliage and candles, but this year the focus will be this gorgeous brass circle candle holder from Ferm Living. I have added a gorgeous eucalyptus in a dark burgundy and wrapped it around the holder with candles to help create that extra cosy feel. Simple white plates and black cutlery add to the table with a few of my treasured ceramics that I have collected when traveling.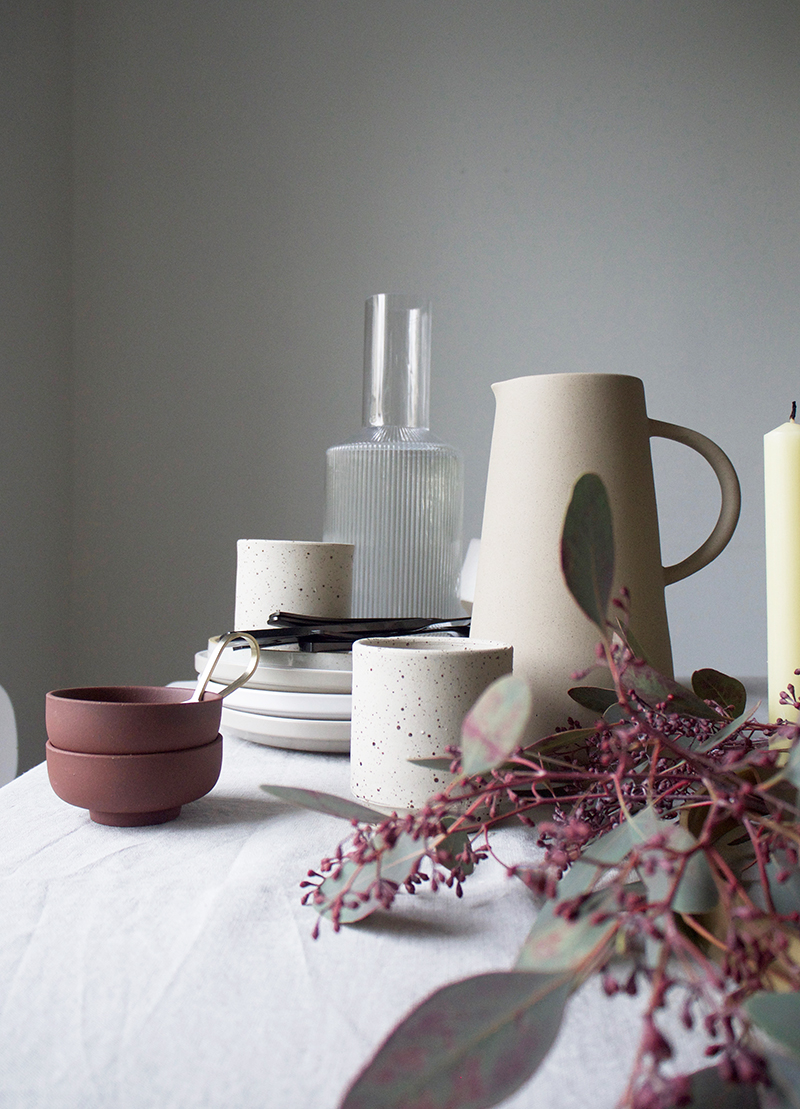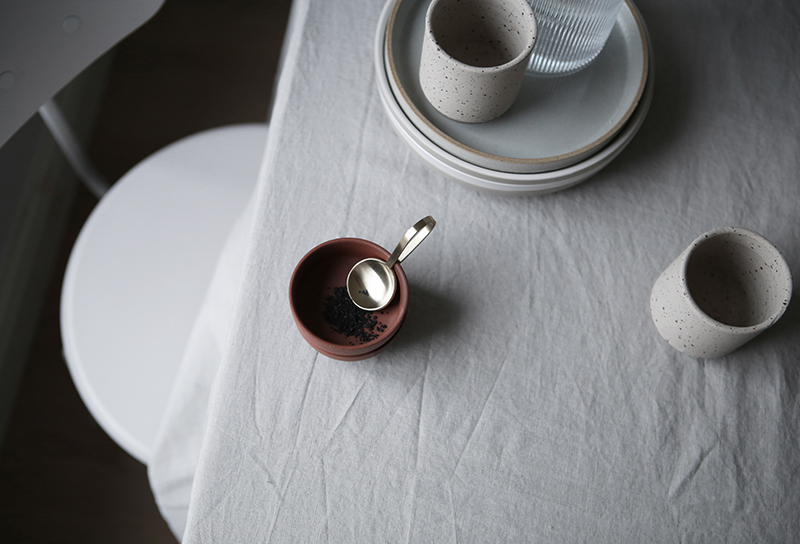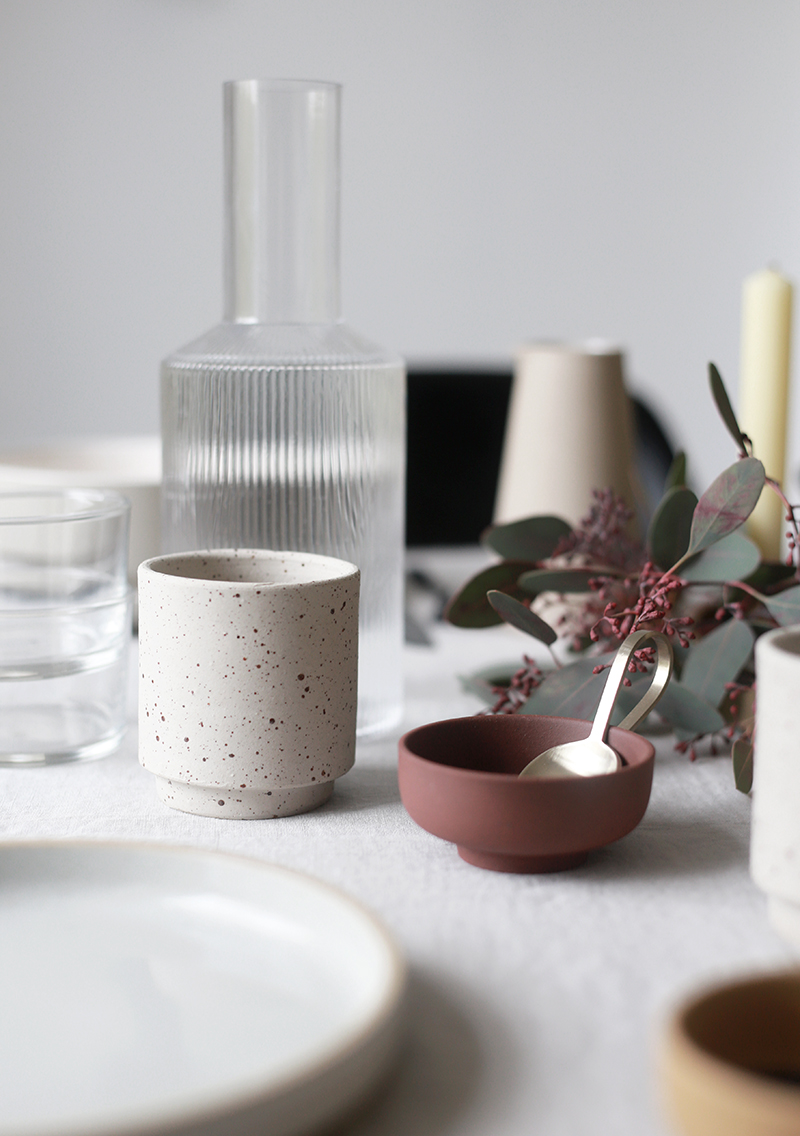 Since moving we really haven't touched this space, the walls look tired and marked and I really wanted it painted for Christmas. I had to be realistic and realise we just don't have the time to complete and do a good job. My ideas are to paint the dining room with a really dark grey. It's a dark room at the best of times, it's currently painted white and because its so dark the walls look dirty. I hope I'm making the right decision!
Basically, our dining space isn't ready but I am hoping with a good set table it will draw your attention away from the walls. Also when I was looking things out I realised that throughout the year many glasses have been smashed so I will need to get a new set and I don't have a full set of napkins. I know H&M has lovely dark linen ones, so I will need to pick them up before the big day!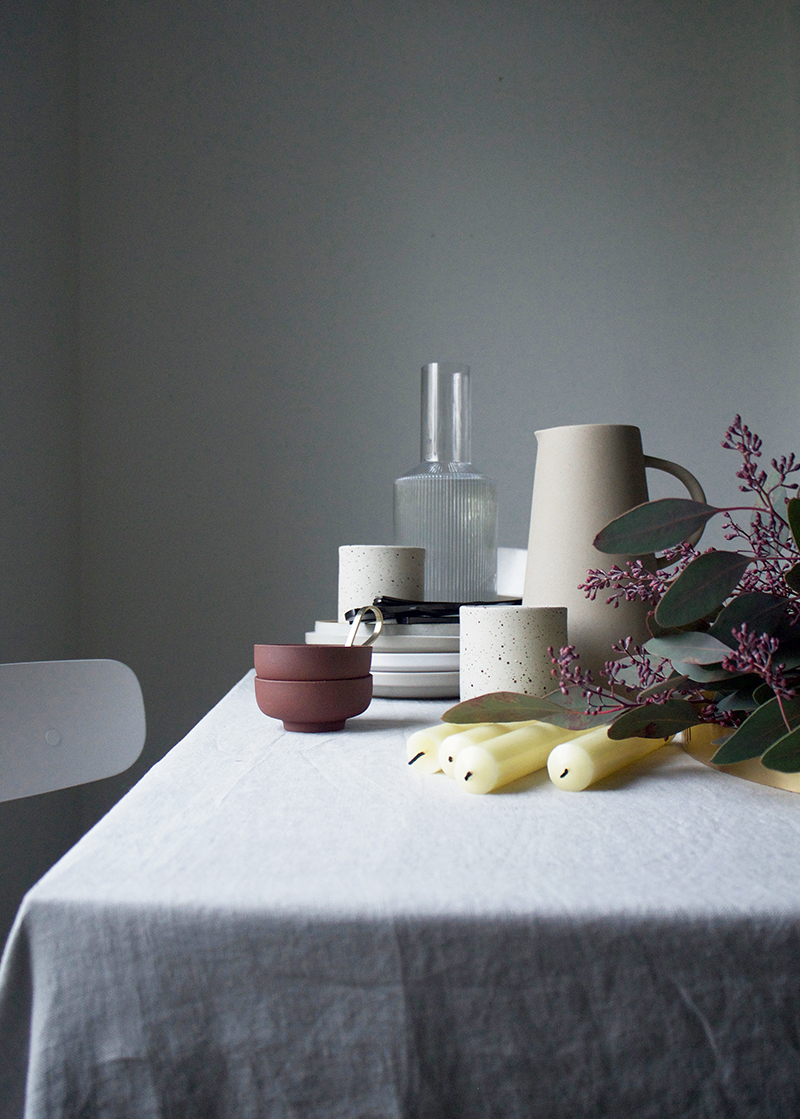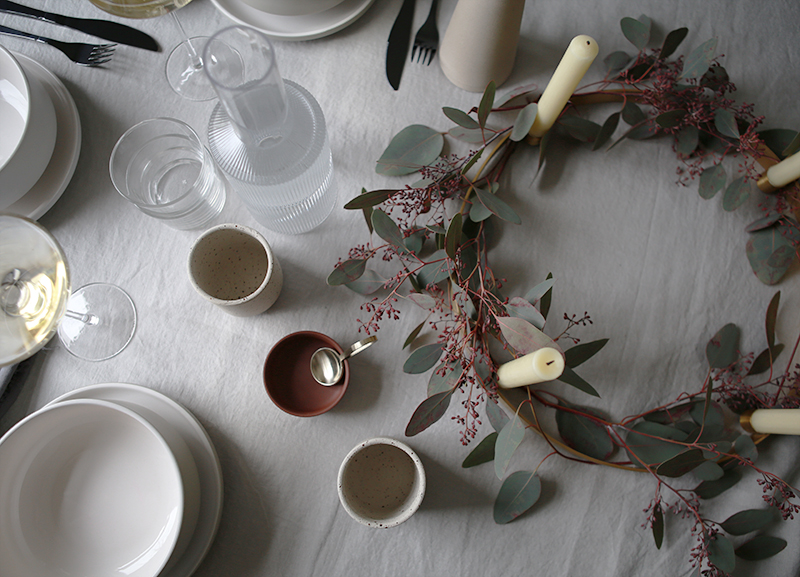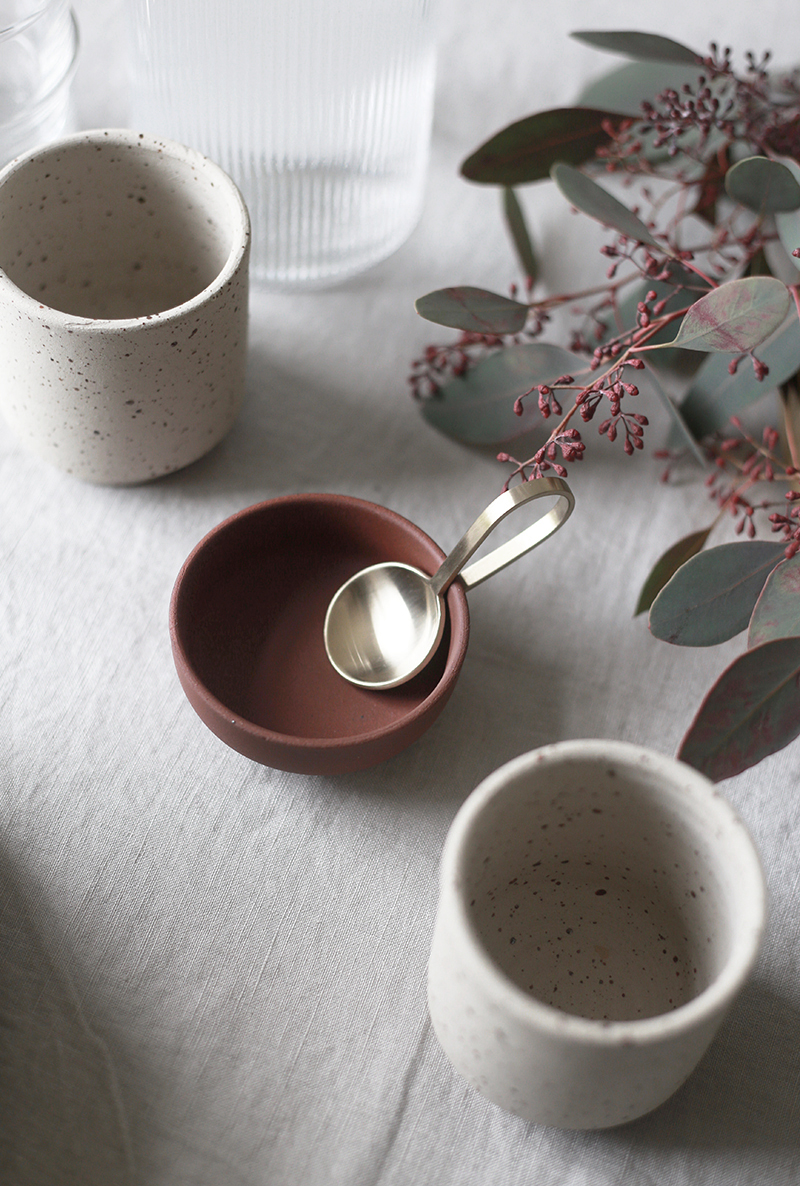 When setting a table I think keeping it simple is the key. You don't need to go over the top as the table will be filled with food and it can get a little fussy. Some simple tips and I think you can create the perfect table.
1. A tablecloth is always good to cover your table so you don't risk getting any marks on it. When picking a tablecloth keep it neutral in colour or dark for atmosphere, nothing with a pattern as it throws everything else off.
2. Create height in your table with candle holders and flowers. A good centerpiece creates drama and interest to your table.
3. Lay everything out you will be using during the meal. It's better chatting with your family and friends than going back and forth to the kitchen.
4. It's okay that not everything matches or you want to add your favorite ceramic dishes to the mix.
5. Why don't you try changing your cutlery up a little, there are some lovely black cutlery sets and brass ones that will give a pop to your table.
Jennifer will also be sharing her tips on how to create the perfect table, I've seen a sneak peek and that tablecloth is the perfect shade, something a little different. Also, remember to follow along with us this weeks #5daysofchristmas17 on both our blogs and Instagram.
SaveSave
SaveSave
SaveSave